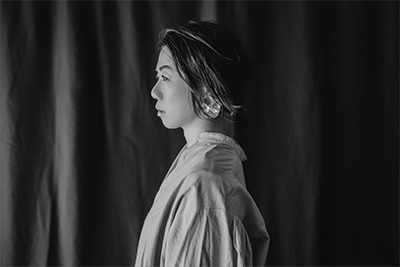 ABOUT
デザインイリスの由来
ギリシア神話に登場するイリスは、神に忠実な「虹の女神」であり、虹の架け橋を使って、天界と人間界の使者〈メッセンジャー〉として行き来していたと伝えられています。
弊社もデザインという表現方法で、人の想いや気持ちを具現化して表現できるメッセンジャーになれればという想いを込めました。
ABOUT
Origin of design iris
Iris, who appears in Greek mythology, is said to be a "rainbow goddess" who is faithful to God, and used a rainbow bridge to travel back and forth between heaven and the human world as a messenger.
We also wanted to be a messenger who can embody and express people's feelings and feelings with the expression method of design.
CEO/Designer
代表取締役 大竹 ひとみ
CEO/Designer
CEO/Designer Hitomi Otake
Biography
幼少期より空間デザイナー、レリーフアーティストである父のもとで美術とデザインを学び、2000年 嵯峨美術短期大学環境デザイン科卒。
サイン会社にてグラフィックデザイナー、店舗デザイン会社にてインテリアデザイナーを経て、2011年 フリーランス として活動を開始。 2017年に株式会社DESIGN Irisを設立。
商業施設・旅館・オフィス・保育園等の空間デザイン・設計・ディスプレイ・コーディネートからロゴ・メニュー・販促物等のグラフィックデザイン、サイン計画デザイン、パッケージ・プロダクト等の立体デザイン、企業や商品開発におけるブランディングデザイン及び、クリエイティブディレクションまで、国内外問わず幅広くお仕事させていただいております。
Biography
From an early age, studied art under her father, a Spatial Designer and relief artist, and graduated from Kyoto Saga Art Junior College in 2000 with a degree in environmental design. I worked as a graphic designer at a signage company, a chief interior designer at a store design company, and a graphic designer before starting her freelance career in 2011.
In 2017, She established DESIGN Iris Co., Ltd. and has been working on a wide range of design projects, including space design and design for commercial facilities, display design, graphic design for logos, menus, and signs, package design, product design, and branding design.
Company
会社概要
商号:
株式会社DESIGN Iris (DESIGN Iris co., ltd.)
本社:
〒151-0051 東京都渋谷区千駄ケ谷3-51-10 PORTAL POINT HARAJUKU 8F
TEL 03.6809.0047  FAX 03.6809.0675
代表者:
代表取締役 大竹 ひとみ
設立日:
2017年3月16日(2011年創業)
取引銀行:
三菱UFJ銀行 恵比寿支店
西武信用金庫 恵比寿支店
昭和信用金庫 えびす支店
Company
Company Profile
Trade name:
DESIGN Iris Co., Ltd. (DESIGN Iris co., Ltd.)
Head office:
8F PORTAL POINT HARAJUKU, 3-51-10 Sendagaya, Shibuya-ku, Tokyo 151-0051, Japan
TEL +813.6809.0047  FAX +813.6809.0675
Representative:
Representative Director Hitomi Otake
Date of establishment:
March 16, 2017 (established in 2011)
Bank:
Bank of Tokyo-Mitsubishi UFJ Ebisu Branch
Seibu Shinkin Bank Ebisu Branch
Showa Shinkin Bank Ebisu Branch
主な業務内容
【インテリアデザイン設計】
・商業施設、オフィス、ホテル等の空間デザイン、設計
・3DCGパース制作
・3Dウォークスルー動画制作
【プロダクトデザイン制作】
・パッケージデザイン
・プロダクトデザイン
・家具デザイン
・3DCGイメージ制作
【グラフィックデザイン制作】
・CI/VIデザイン
・グラフィックデザイン
・イラストレーション制作
・キャラクターデザイン
【アートディレクション・デザイン】
・アートディレクション
・サイン計画デザイン
・ブランディングデザイン
【ディスプレイデザイン】
・アートフラワーアレンジメント制作
・ディスプレイデザイン及びディスプレイ施工
・アートワークデザイン
Main business contents
[Interior design]
・ Space design and design of commercial facilities, offices, hotels, etc.
・ 3DCG perspective production
・ 3D walkthrough video production
[Product design production]
・ Package design
・ Product design
・ Furniture design
・ 3DCG image production
[Graphic design production]
・ Corporate identity design & Visual identity design
・ Graphic design
・ Illustration production
・ Character Design
[Art Direction Design]
・ Art direction
・ Sign plan design
・ Branding design
[Display design]
・ Art flower arrangement production
・ Display design and display construction
・ Artwork design